"Willpower is the key to success. Successful people strive no matter what they feel by applying their will to overcome apathy, doubt or fear." – Dan Millman
Every person has both positive and negative habits, certain negative habit becomes as impasse to achieve goal or success. To ride out those negative habits will power is very significant. The possession of will power will bring a great difference in your life.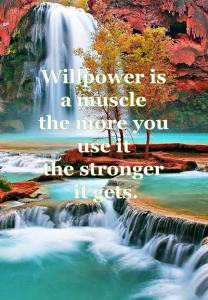 Will power levels for sure differ from person to person; one can improve their will power capacity at any point of life. It's just like an exercising a muscle; the more you do, the stronger you get. Its gives you a good control over your life and help to change and improve your habits. It is essential for self-improvement, mystical and meditation.
SEE ALSO: 5 Ways to super charge your motivation
Strengthen your willpower
One can strengthen their willpower skill by using a modest and most effectual technique like; by doing the things which you are trying to evade due to shyness, weakness, laziness, adjournment, coward, etc. By doing such activities, your inner resistance will overcome your subconscious resistance.
Will power gives aptitude to control or eliminate redundant or harmful impulses. – Will power is the only remedy to indolence and postponement . – It helps to overcome internal and external opposition or obstacles. – Will power gives skill to take a decision and just follow it with determination, until its successful achievement.
Try to become the boss of your mind by developing this skill (willpower) to control your thoughts, develop your concentration, etc. If you have a strong willpower you will possess more internal strength which is vital for achieving success .
That is why Aleister Crowley enunciates that, "In the absence of willpower the most complete collection of virtues and talents is wholly worthless."
 Related Articles: