"Success comes to those who dare and act. It seldom goes to the timid."
These are wonderful and inspiring times. There are opportunities all around. Never before have been witnessed the kinds of opportunities that exist today. Knowledge is multiplying at a lightening pace, creating new vistas of opportunities for us. Knowledge grows with competition. Competition is, today, fierce, aggressive, determined, focused and creative.
Knowledge and ability to put it to the worthy application are what lead to the winning edge. The quality of thought that guides your actions is more vital to victory than the knowledge you possess.
SEE ALSO: Attitude Makes Big change In Our Life
Success is a choice that we make. It is not a matter of chance. We get what we seek in life. Our focus to be on what we see to achieve, and not on what we don't achieve. Our effort should be directed at the desired achievement, and not on the rough rides and failures that we may confront along the way. Success is the outcome of our attitude. Our thought surface into emotional leanings called attitudes. Our thinking is by choice and, therefore, success is a matter of choice.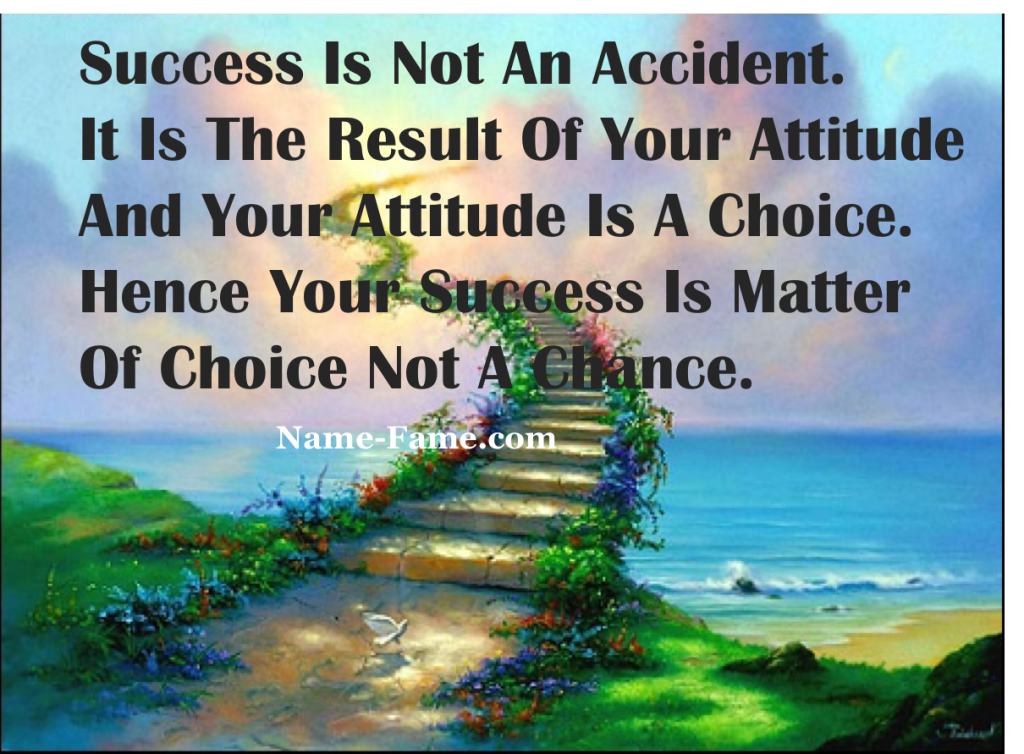 There are 5 frogs sitting on a bank of river. uncomfortable in the scorching heat, three of them decided to jump into the river. How many are now left on the river bank? All of them; the three only decided to jump but did not.
Success comes when you decide to be successful and follow it through with concrete action.
SEE ALSO: Right Attitude Towards Your Work
We often wonder why is it that some people achieve victory after victory, attain their goals, cross all possible blocks, turn barriers into bridges to realize their dreams, enjoy healthy relationships, and have happiness, fulfillment of life, prosperity, contentment and peace of mind and yet some struggles to get off the mark. The difference lies in the knowledge, the ability to put it to the useful application, the attitude and the extent to which we are aligned with the basic principles of success.
Success boosters
Victory comes by putting knowledge into application.
Success is a matter of choice and not chance.
Success is a journey, not a destination.
Success is for everyone.
Focus on your goals. Success demands a positive attitude and action. Let go of your past, act in the present and keep your vision on the future.
Enjoy your victory.