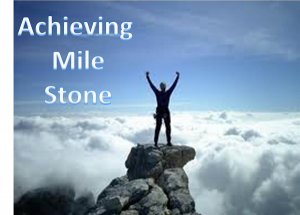 "An arrow can be sent only by dragging it back, So when life is dragging you back with difficulties it means that it's going to launch you in to success."
Hope everyone know about power of written goals , ok. let me give brief. Write your goals in a paper and read it every day. It is training to one's subconscious mind . By reprogramming subconscious mind, the thing previously which we felt "impossible" becomes "possible". First be clear in your goal, the clear goal takes you in the right way to achieve your milestone .
The basements to climb the success steps are first have faith in you, then cheerfulness, self-motivation , and being optimist in approach.
The principles for success are self-reliance. When you help yourself, God will help you. Indeed, depend upon yourself and you can achieve anything. Nothing is impossible.
It is just a bend:-
It's natural, often when we Lose hope and think this is the end. But remember at that time , God smiles from above and says, "relax, sweet heart, it is just a bend, not the end! Oh yes! When I wrote the word END I remember a small paragraph Mission not yet over which I studied in a library.  find in next paragraph.
Achieving mile stone is possible only with the person who has will power. The difference between a successful person and others is not a lack of strength, not a lack of knowledge, but rather a lack of will.
While climbing to achieve the mile stone, problems comes in between is usual, but you should learn to change problem in to an opportunity .
Mission Not yet over.
If you think your mission is over and your life has come to an end, Just think it over! Do you ever dispose of 'live' battery which still have a purpose to serve? Believe it, as longer as you are 'alive' your mission is not yet over, and you have a purpose to serve.
So, remember there is no end for your goal, till you are alive.
I saw many who don't know what is their talent? They just do what their senior says. By writing this I remember a story about real potential and goal .
First, one should know their potential talent. For that one's target should be bigger if the target is small they will get it done easily without much effort. Then where is the chance to bring one's potential talent out. So, set the goal big and work for it. Nothing is impossible.
by,
Poornimababu
Follow me on Twitter