To motivate ourselves and our loved ones every day, send a Good morning messages to them. Mornings are very special time for everyone. There are more opportunities out there, so much hopefulness and anticipations in those few hours.  When your loved ones wake up in the morning and see the messages, it brings happiness and smile on face. No matter how tensed they are, once they read a good motivation quotes in the morning, it definitely changes their mood. Let's start our morning by reading good motivational quotes which helps us to make our day bright as the sun shines.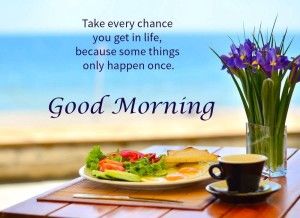 Inspirational Good Morning Quotes
Always believe something wonderful is about to happen!
We learn little from victory, much from defeat.
We don't grow when things are easy. We grow when we face challenges.
It takes nothing to join the crowd, but it takes everything to stand alone…!
Remember: change starts in your thoughts.
Go confidently in the direction of your dreams. Live the life you have imagined.
Set a goal that makes you want to jump out of bed in the morning.
If you have choice then choose the best, if you have no choice then do the best.
We always work for a better tomorrow…but when tomorrow comes, instead of enjoying, we again think of a better tomorrow! Let's have a better today…
Rise up, start fresh, see the bright opportunity in each new day.
Life always offers you a second chance. It's called tomorrow.
Take every chance you get in life, because something happens only once in life.
I think if you stay true to yourself, everything will fall into place in the end.
Never stop believing in hope because miracles happen every day.
Challenges makes you more responsible. Always remember that life without struggle is a life without success. Don't give up and learn not to quit.
Morning is god's way of saying one more time, go make a difference, touch a heart, encourage a mind, inspire a soul and enjoy a day.
Challenges are what make life interesting and overcoming them is what makes life meaningful.
The good news is that every morning we have a choice.
Don't limit yourself. Many people limit themselves to what they think they can do. You can go as far as your mind lets you. What you believe, remember, you can achieve.