What we frequently encourage and steadily nurture in our mind, determines our character formation and eventually our destiny.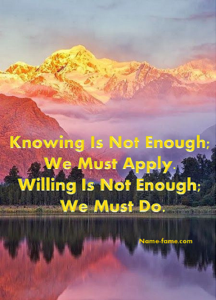 Let us grow through prayer. We can develop through study. We should open up through meditation.

Thereafter, at all times, our better mind will impose upon us sacred responsibility to make the most of it – to ourselves and for others.

In fact, if we are ready, we can accomplish, this moment, great things.

If we are willing, we can perform still greater actions.

Let us be 'ready, willing and available'.

If we are available, the greatest achievements are possible.

Let us accomplish 'Great things', perform 'greater actions' and make possible the 'greatest achievement'.
SEE ALSO: Develop your inner power and strength to achieve your goal
Let us give up our false living through wrong thoughts. Let us grow to be positive.

Let us recharge our life with health, harmony and happiness. Let us grow to be positive.

Let us take to regular and ardent prayers, sincere and serene. Let us grow to be positive.

To live large life, every one of us must have a rich store of personal courage.

The more we add to our self-confidence we bring out the courage in us, discover the efficiency in us, are sustained by the faith in us.

The more we move towards him, the infinite and the omnipotent dwelling ever in our hearts, the more we shall realize that we have unlimited resources.

Thus, fortified with our identification with him, we shall become fit for success even in the most formidable of enterprises.

Let us scriptures give us faith in ourselves.

Let us, through study, reflection and meditation grow from conviction to belief and ultimately earn our 'perfect way of life'.

Let us be the vigilant sentinel; seize the choice, the direction, the gait of our advances, the speed of our passage in to new and fresh acceptance, and let us capture the freedom and power that is ours.

Let us start our day with prayer and thus draw our inspiration from him.

Let us remember him now and then and learn to revive our enthusiasm to be prompt.

Let us draw our poise, efficiency, promptitude and courage from him who is invoked in our heart through our ardent prayer. Let us learn for a few minutes every day, to lift our mind from duties and actions to a divine attitude of sustained attention for the inflow of his grace and joy, peace and bliss.

Let us glide the small things of our life in to the nimbleness of dedicated efficiency that we may come to radiate

his serene poise.

Let us act always with such a resurrected personality ever fresh with enthusiasm lit with the lamp of peace.