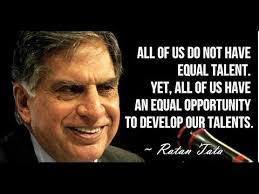 Ratan Naval Tata is a chairman of Tata group. Padma vibhushan Ratan Tata is world famous personality. He inspires millions of dreams even today. Ratan Tata has a clear vision and mind set towards his goal and he knows the way to achieve it.
Take the stones people throw at you and use them to build a monument.
None can destroy iron, but its own rust can! Likewise, none can destroy a person, but its own mindset can..
Ups and downs in life are very important to keep us going, because a straight line even in an E.C.G. means we are not alive.
I don't believe in taking right decisions, I take decisions and then make them right.
All of us do not have equal talent yet all of us have an equal opportunity to develop our talents.
I have always been very confident and very upbeat about the future potential of India. I think it is a great country with great potential.
I would say that one of the things I wish I could do differently would be to be more outgoing.
If it stands the test of public scrutiny, do it. If it doesn't stand the test of public scrutiny then don't do it."
I have also made this a point in our company: We need to stop taking baby steps and start thinking globally. It really seems to be helping.
Young entrepreneurs will make a difference in the Indian ecosystem.
Power and wealth are not two of my main stakes." – Ratan Naval Tata
I will certainly not join politics. I would like to be remembered as a clean businessman who has not partaken in any twists and turns beneath the surface, and one who has been reasonably successful.