Self-efficacy determines how powerfully you believe in your abilities. It's task-related, which means you can have great self-efficacy in one area and low self-efficacy in another. However, the general sense of self-efficacy touches all aspects of your life, as earlier success constructs more confidence in your abilities.
People with a strong sense of self-efficacy approach challenging tasks as things they can master. They apprehend that hindrances don't have to lead them to failure, and they put more effort and dedication to achieve their goals.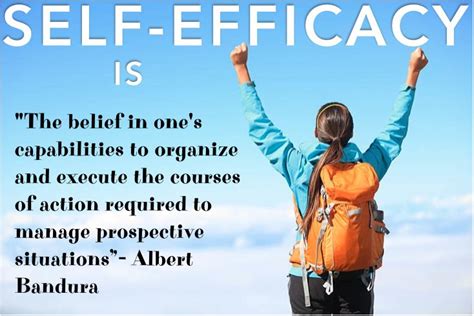 People who have a weak sense of self efficacy will escape challenges and seldom commit to their goals. Therefore, they have a much tougher time making transformations in their lives.
Many of them think that self-efficacy and self-esteem are the same. But, it is not. Self-efficacy is not self-esteem. People who have a high sense of self-esteem can still suffer from low self efficacy. Conversely, people who have low self-esteem are further likely to have low self-efficacy owed to their general lack of confidence.
Self efficacy isn't about cockiness. Stay modest though when you are great at something. Adapt the approach of a beginner who is open and keen to learn new things without having any predeterminations about the subject she is studying.
There are four factors that impact your self efficacy (mentioned in the order of importance) mastery experience, social modelling, social persuasion and psychological responses.