Education is very important as it opens the mind and expands it. Some best important educational quotes on education.
Best educational quotes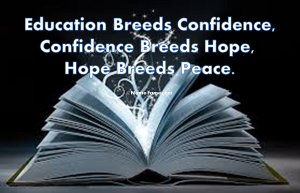 Education is the most powerful weapon which you can use to change the world.
An investment I in the knowledge posts the best interest.
Develop a passion for learning. If you do, you will never ceases to grow.
Education is the passport to the future, for tomorrow belongs to those who prepare for it today.
Education is the key to success in life, and teachers make a lasting impact in the lives of their students.
Education is the key to unlock the golden for of freedom.
Give a man a fish and you feed him for a day; teach a man to fish and you feed him for a lifetime.
The highest result of education is tolerance.
SEE ALSO: Must Read Quotes To Inspire and Motivate You To Achieve your Goal
It is the mark of M educated mind to be able to entertain a thought without accepting it.
Education must not supply teach work-it must teach life.
Education is what remains at one has what one has learned in school.
Education is the advancement of knowledge and the dissemination of truth.
The for of education are bitter, but the fruit is sweet.
Learning is not attained by chance, it must be sought for with ardor and diligence.
Education is not preparation for life; education is life itself.
You are always a student, never a matter. You have to keep moving forward.
The great aim of education is not knowledge but action.
Some of the brightest minds in the country can be found on the last bench of the class room.
One child, one teacher, one pen and one book can change the world.
Education is not filling a pail but the lighting of the fire.
Education is an ornament in prosperity and a refuge in adversity.