"You don't get paid for the hour. You get paid for the value you bring to the hour" – Jim Rohn
If you want to be a high-potential person here, you'll need to pay more attention. Remember that if you don't rate your own worth, someone else will. Potential and worth are linked; the question now is how to increase our worth. There are numerous tried and true methods; here are a few of them for your consideration.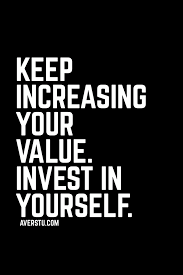 Constantly picking up new skills We live in a fast-changing era, and it has been proven that a skill is replaced by a new one every four years. As a result, the significance of the new skill could be easily comprehended. In order to increase your value and keep up with changes, look for new skill demand in your field.
SEE ALSOO: Life Is All About Your choices
Take part in social activities
It has a huge impact on your worth. Be a person who is trustworthy, respectful, and considerate. Have the ability to forgive. Keep your promises and be willing to help others. Never try to deceive another person.
Assume the role of a problem solver. Your value rises in lockstep with your ability to solve the problem. Face the issue rather than attempting to flee the situation.
Working hard on yourself will help you become a valuable person. Change yourself, not the world; if you change yourself, everything else will follow. Put in slightly more value than you did yesterday, and keep working on accumulating value in yourself. Remember that knowledge, skill, and education are all costs of value, and you will need to pay for them in order to increase your worth.
Anything that boosts your self-esteem raises your value. Be a person who forges their own path. Your weakness in order to determine your ability, you must first understand both your weakness and strength. If you don't acknowledge them, you'll start blaming unfavorable circumstances, resources, fate, and so on whenever strange things happen in your life.
SEE ALSO: Great Techniques to Deal with Selfish People
When you plan something, fear of failure is the first thing that comes to mind; replace it with positivity if you don't want to show your full potential.
Make yourself irreplaceable
People will not be able to ignore you, and your department or place of work will feel helpless without you.
Consider yourself a product with features that need to be highlighted in order to develop your own "personal brand." Companies solicit customer feedback and analyze and update their goods in response to customer needs, thereby increasing the value of their products. Every day, you can upgrade yourself to increase your value and improve yourself.Always keep your personal and professional networks in good shape.