Yoga in daily life is very improtant, as it helps to develop our physical, mental, social and spiritual health. If the body is physically fit, then the mind focused, clear and stress will be under control.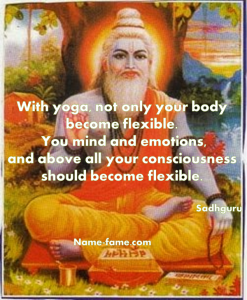 Important advice on Yoga:
Walk Every Day at least for 10-30 Minutes' .
And While Walking keep Smile on your face.
Sitting In Silence at Least for 10 Minutes everyday is important.
Sleep daily 7- 8 Hours
We need to live with these 3 important E's – Energy,
Enthusiasm, and Empathy.
Play outdoor Games.
Read more books and keep increasing it every year.
Yoga, Meditation, and Prayer is more important. It fuels us everyday for Our Busy Lives. So make practice of it.
Try to pass your time with persons who are below 6 years old and above 70 years old.Dream More While You Are Awake.
Always eat food that grow on trees and plants and avoid eating manufactured plant foods.
Drink lot of Water everyday.
Smiling everyday is good for us. Every one should smile at least for a while. So, smile and make at least 3 people smile everyday.
Gossip is waste of time so stop wasting your valuable energy On
Gossip.
Always endow Your Energy In The Positive existing Moment. Quit Having Negative Things or thoughts that you Cannot Control.
Realize That Life Is A School And You
Are Here To Learn. Problems Are
Simply Part Of The Curriculum That Appear
And Fade Away Like Algebra Class
But The Lessons You Learn Will Last A
Lifetime.
Eat Breakfast Like A Ruler, Lunch Like A
Leader And Dinner Like A medicant.
Smile And Laugh More to relive you stress.
Stop hating others instead love them because Life Is Too Short.
Don't let your past spoil your present instead Make Peace With Your Past.
 Do not Compare Your Life with Others'. because You Have No Idea about their life and their Journeyand stop Comparing Your husband With Others.
No One Is In Charge Of Your Happiness
Except You.
Forgive Everyone because we not sure about meeting them in next rebirth. Be happy with everyone you meet.
Just don't think about What Other Person Think Of You because it is not Your Business.
Believe that GOD ! rectifies Everything.
Nevertheless Good Or Bad A Circumstance Is, It
Will Change.
Your Career Won't Take Care Of You WhenYou Are not feeling well. However Your Friends do.
So, Stay in Touch.
When you feel that this thing isn't beautiful, joyful or useful then just get free from that thing.
Greed Is A Waste Of Time. You Already
Have All You Need.
The Greatest Is Yet To Come.
No Problem about How You Feel, Just Get Up, Dress
Up And Show Up.
Always See to The Right Thing!
Always Your Inner Most Is Happy. So you too
be Happy.
Every Day Offer Something Good to
Others.
Keep Your Bounds. Don't Over Do anything.
When You Up Alive In The Morning,
Thank GOD For It.
Please Share This To Everyone You
Care About