Indra Nooyi was a successful women entrepreneur. She was Indian-American Business Executive, Chairman and CFO of PepsiCo . She was a super strong and very intelligent woman with a desperate insight for financial strategizing. Her real robust attitude has helped the company garner $30 billion in two years. Forbes ranked Indra Nooyi among World's 100 most powerful women.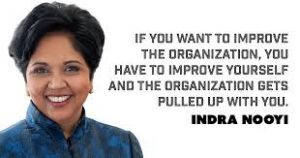 Indra Nooyi was born on 28th October 1955 in Madras (presently known as Chennai), Tamil Nadu, India . Her full name is Indra Krishnamurthy Nooyi. Nooyi educated at Holy Angels Anglo Indian higher Secondary School in Chennai, completed bachelor's degree at Madras Christian College, and MBA at Indian Institute of Management (IIM) at Calcutta.
Indra Nooyi started her first career at Johnson & Johnson as a Product Manager later in 1978 she admitted to Yale School of Management and completed Master degree in Public and Private Management. Later she joined in Motorola where she apprehended a number of positions at Motorola and ASEA brown Boveri.
SEE ALSO: Succes Story of APJ abdul Kalam.
Women entrepreneur carrier life
In 1994 Nooyi joined PepsiCo. Later in 2001 she became President and CFO of PepsiCo. In 2006 she became the 5th CEO of PepsiCo. Her entry as CFO in 2000 companies annual revenues have increased 72%, whereas net profit more than doubled over, to $5.6 billion in 2006.
Indra  Nooyi Won many awards and International recognition. Indra Nooyi has been named as 2009
CEO of the Year by Global Supply Chain Leaders Group. In 2009, Brendan Wood International, an advisory agency deliberated Indra Nooyi as one of "The Top Gun CEOs".
Subsequently 2006 to 2010 Fortune ranked Nooyi as No.1 most powerful woman in business.
In 2008 – U.S. News & World Report named Indra Nooyi as one of Americans best leaders and she was elected to the Fellowship of the American Academy of Arts and Sciences.
Forbes magazine perpetually ranked Nooyi 3rd on the 2008 and 2009 list of The World's 100 Most Powerful Women.
Indra Nooyi Born and educated in India. By way of her strong attitude and intelligent she won many honor's and world recognition which is really a very good stimulation to all the Indian women's and she made our country proud.
SEE ALSO: Success Story of Dhirubai Ambhani
In interview to The Hindu Businessline a women entrepreneur Indra Nooyi provided some keys on dealing with uncertainty. She gave five tips to firms.
Recognize and accept that we are in a new epoch of uncertainty, and adapt consequently.
Lead for today as well as for tomorrow at the same time. "It is companies with a clear long-term mission that will succeed. So, we have to work on two time scales at once.
She told the marketers that make big changes to big things. "Interruption is now our friend, not our enemy. "If you don't interrupt yourselves, the competition will," was her warning.
Nurture talent. "In the time of volatility and uncertainty, the way we buy, broaden and bond our talent will be the key to whether we atrophy, just survive or thrive."
And her final piece of advice to heads of corporations was to be super-visible as a leader. "We need to communicate all the time."