Hard work beats talent when talent doesn't work hard. – Tim Notke
Success also means hard work. Winners work harder than losers. They practice. They study. They sacrifice and make hard choices. They are the first ones to come to work in the morning and the last ones to leave at night. Based on their carefully-thought-out strategies, and boosted up by their environment, they act.
The truth is, that while talent and genius are helpful, the winners in life simply have better systems. They study people who are successful. As Tony Robbins says, "success leaves clues" and winners use strategies that have worked for other people. They surround themselves with a rich environment that inspires them, and they work very hard.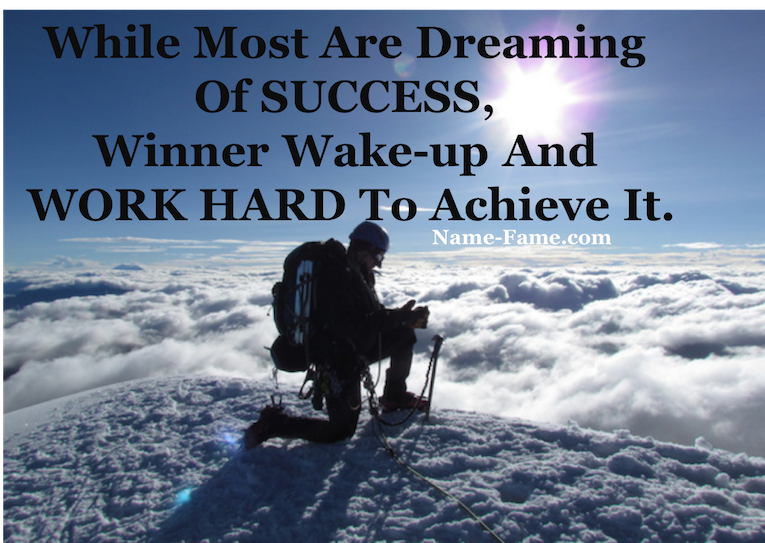 Hard work is the Price to pay for success
Hard work is the price we must pay for success. The only way you are going to get anywhere in life is to work diligently at it. Whether you are a musician, a writer, an athlete or a businessman, there is no getting 'more or less' out of it. If you do, you will win if you don't, you won't. The dictionary is the only place where success comes before work.
Winners aren't born, they are made. And they are made just like anything else, through diligent work. And that's the price you will have to pay to achieve any goal you are aiming at.
The greats of history who wished for more were never afraid of hard work and the obstacles. That's why Gale Brook has this clever remark: "I do not ask to walk smooth paths nor bear an easy load. I pray for strength and fortitude to climb the rock-strewn road. Give me such courage and I can scale the hardest peaks alone, and transform every stumbling block into a stepping stone."  Never, ever, give up, for that is just the place and time that the tide will turn. Nothing work like magic. Usually, luck comes disguised as hard work!
We would do well to learn a lesson from Helen Keller, who encouraged us saying, "when we do the best that we can, we never know what miracle is wrought in our life, or in the life of another." I am sure you can accomplish anything if you are willing to pay the price.