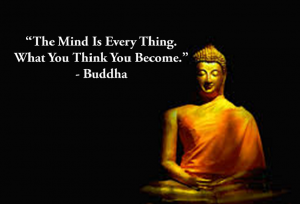 If life gives us rocks, don't sit back and blame life for that.
At every turn of your life, it gives us choices which we fail to recognize.
So when life gives you rocks,
It's still your choice whether to build a wall or to build a bridge.
"Your mind is a tool you can choose to use any way you wish." – Louis Hay
Positive – always think only positive. Positive thinking and negative thinking are communicable.  So always think positive and see only beneficial and positive situations in life. Smile a little more, as this helps to think positively. Neglect if you have any feelings of laziness or a desire to quit.
The true test of an individual to remain positive is when challenges become difficult. Positive thinking is a mental attitude that confesses into the mind thoughts, words and images that are constructive to progress, expansion and success. This is a mental attitude that anticipates good and auspicious results.
"Train your mind to think in terms of 'possible' and 'can be done'."
 Begin: Take charge of your life be a beginning something you've always wanted to do.
Team Work: Team work divides the task and multiples the success .
Take time-off: make a conscious effort to take time-off, you will feel refreshed and able to think more clearly.
Listen: Try listening carefully to other person's point of view first, without being preoccupied or distracted.
Believe: Tell yourself that you will succeed at whatever you are doing at the moment.
Goal setting: The ability to convert ideas to things is the secret to outward success.
SEE ALSO : Self Motivation
Fear of failure: It is hard to fail, but it is worse never to have tried to succeed.
Choose: We can't always choose our circumstances, but we can choose our attitude towards them.
Excellence: Excellence is not a destination; it is a continuous journey that never ends.
Leave a trial: Do not go where the path may lead, go instead where there is no path and leave a trial.
Be a winner: The act of taking the first step is what separates the winners from losers.
Never give up: When you feel like give up, remember why you held on for so long in the first place.