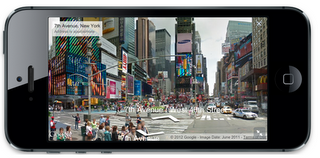 Google street view – Google's street view is presently available on mobile browsers. This is really good news for all and who is dependent on online maps.
Just check it out to access street view by going to Google maps in your mobile browsers, type the address where you are looking for and click on the "pegman" (person) icon at the bottom right corner of the screen it will drop down in to the street view. Now swipe to watch around or select the direction (click on the arrow) you need to go. You will just feel like you are in that street.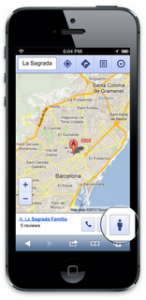 It is not like an even map view which already exist in your mobile. "Pegman" icon is essential to have a Google street view. This "pegman" will be available only by searching for a specific location. Besides, street view opens in a new browser window and it starts in center at a default location in a city. And when it comes to zoom feature of street view it is available in desktop but absent here.
SEE ALSO: Google Indoor Map
For a rapid access to Google Maps on iOS devices, just save a bookmark to your home screen. Merely click "Save to Home Screen" for the more instructions click here.
Google street View images are available for the Android operating system, as well as in Apple's iOS 6. It is not available for the new iOS.
Image Source: Google Images