Mukesh Ambani is a big business magnet and richest man in India. His reliance industries ltd. Is a most popular company in India. Mukesh Ambani quotes have motivated people all around the world. His quotes feed precious intuitions in business management.
Best 15 quotes by Mukesh Ambani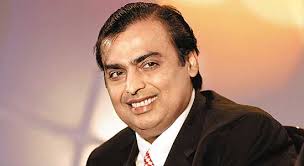 It is important to remember, there are no overnight successes. You need to be dedicated, single minded, and there is no substitute to hard work.
Dance to you own music and take some risks in life, because it is often the risk taker who changes the course of history, and contributes to the well-being of millions of lives.
Fill your year and minds with melodies of optimism.
Business must serve a larger societal purpose.
I don't think that ambition should not be in the dictionary of entrepreneurs. But our ambition should be realistic. You have to realize that you can't do everything.
I think that our fundamental belief is that for us growth is a way of life and we have to grow at all times.
Today I see a billion people as a billion potential consumers, an opportunity to generate value for them and to make a return for myself.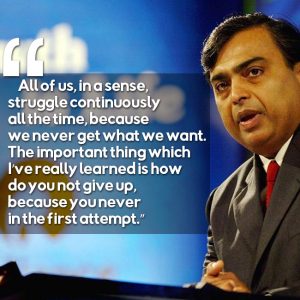 "The organizational architecture is really that a centipede walks on hundred legs and one or two don't counts. So, if I lose one or two legs, the process will go on, the organization will go on, the growth will go on."

Our own childhood was totally different. I guess when you are left on your own; you find your true potential. I remember my father never came to our school even once. Nevertheless, he was hugely interested in our all round development for which he did some amazing things.
Everybody has equal opportunity and I think that is true for everything.
Any business that has the soul purpose of making money is not worth doing.
Mahatma Gandhi's dream of self-reliance can be attained by making use of internet and technology.
Essentially, whoever is successful, whoever is going to do things that make a difference. Is going to be talked about.