If you are open and keen, travel will make you an amazingly more well-rounded human being.
When you travel to other countries and see the marvellous beauty of sunrise and sunsets overseas, splendid waterfalls dribbling off vertical drops, eagles riding mountain currents, etc. one will understand that the world is filled of more beauty and it is worth of seeing in a lifetime.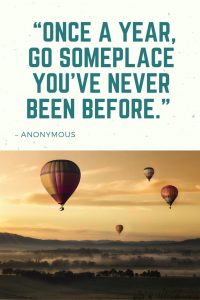 Best Travel Quotes
Life is a magical journey, so travel endlessly to unfold its profound and heart touching beauty.
It is only in adventure that some people succeed in knowing themselves – in finding themselves.
Once a year, go someplace you've never been before.
The real voyage of discovery consists not in seeking new landscapes, but in having new eyes.
I travel to find happiness and bring it home.
I haven't been everywhere, but it's on my list.
Travel is the best way of learning.
The world is a book, and those who do not travel read only a page.
Maybe the best moment of your life will be on your next big adventure.
Travel makes one modest. You see what a tiny place you occupy in this world.
Travel is the only thing you buy that makes you richer.
Fill your life with adventures, not things. Have stories to tell not stuffs to show.
If you think adventure is dangerous, try routine it's lethal.
See the world it's more fantastic than any dream made or paid for in factories.
We travel not to escape life, but for life not to escape us.
I would gladly live out of a suitcase. If it meant I could see the world.
Its better to see something once than to hear about it a thousand time.
To travel is to discover that everyone is wrong about other countries.
Just go. Go see all the beauty in the world.
Jobs fill your pocket, adventures fill your soul.
You don't have to be rich to travel well.
Not all those who wander are lost.