Author Richard Exley said about Friendship that, "A true friend is one who hears and understands when you share your deepest feelings. He supports you when you share your deepest feelings. He supports you when you are struggling; he corrects you, gently and with love, when you err; and he forgives you when you fail.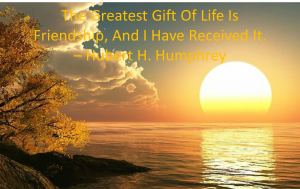 A true friend prods you to personal growth, stretches you and your full potential. And most amazing of all, he celebrates your successes as if they were his own".
You cannot sustain a deep
friendship with everyone, nor should you try. But you could cultivate genuine, deep friendship with people. And you can be a friendly, kind, supportive person to everyone you meet. You can treat every person as an individual, not simply a business "contact". If you put others first as people and then worry about business second, you're on your way to practicing the friendship principle.
No matter what kind of business or industry you're in, the friendship principle can help you. It doesn't matter if you're the salesman or customer, a boss or an employee, an executive or a stay-at-home-mom. Whatever work you do, people will be more inclined to do it with you when you treat them like friends.
One person who had incredible insight about relationships was King Solomon of ancient Israel. During his lifetime, he wrote many wise things about friendship. He wrote, "Friends come and friends go, but a true friend sticks by you like family'. When you develop a deep friendship with someone, value it, because real friends are rare.
A true friend….
Is someone who sees you at your worst but never forgets your best.
Is someone who thinks you're a little bit more wonderful than you really are.
Is someone you can talk to for hours or be with in complete silence.
Is as happy for your success as you are.
Trusts you enough to say what he really means when talking to you.
Doesn't try to know more, acts smarter, or be your constant teacher.
In short, a real friend is a friend all the time . Value the real friends you have. They are precious. More important, try to become a real friend to others. There are few gifts greater than being a friend.