It is important to know the power of positive affirmation and how to use them effectively – The positive affirmation motivates the student to move on the track of learning without distracting their mind to other thoughts. Learning is life-long endeavor and in fact learning continues far beyond the classroom. Most professions entail enduring education and re-education by way of fields change, enlarge, and cease to exist. It is very important to live in the information age.
When you are preparing for board exams or entrance exams, it's very important to remove all negative thoughts from your mind. This can be done easily by talking to you and by replacing the entire negative into positive by saying positive affirmations.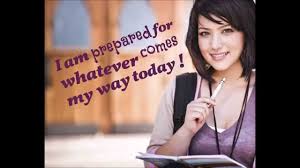 By repeating the positive affirmation mentioned below you can easily overcome your exam fear.
By giving a positive affirmation while preparing for exams helps you to boost your self-confidence and eliminates the exam fear.
There are many positive affirmations below, you can choose that suits you.
Positive affirmations for students and learning
I have sharp memory power.
I am well focused on my studies.
I easily understand the subject I read.
I am getting good marks in all classes I take.
Disruption never disturbs me.
I believe in myself
I can do anything
I am capable and today I am going to learn lot
I am improving every day.
I will do my exams well.
I am the best
I am a responsible person.
I am set for whatever approaches my way today!
I am improving my study habits every day.
I love learning and studying.
I am now free from nightmares related with school.
Studying is very easy for me and I am doing it well.
I love to learn and it is quite easy for me.
Every day I reach on time for all my classes.
I am excited with the chance to be a college student.
Recognizing I am fortunate.
I have lot of people who are ready to help me through my school / college years.
I always have sufficient money for the whole thing I want.
I am good in getting along with all my teachers.
I am quick learner and happy all the time.
Positive affirmation for exams
I am well prepared for every exam.
I remember everything what read for exams.
I am feeling great and comfortable with my surroundings
I have great memory power and I can recap anything easily.
I am very focused in my preparation.