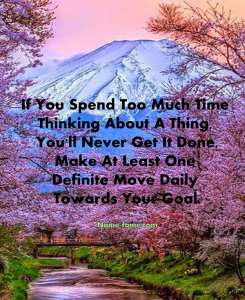 "You cannot change what you do not manage; you cannot manage what you do not track."
HOW AS YOUR YEAR BEEN?
It is very important to review your goal progress often to confirm that you are actually progressing are just going around. Some people do self-review every month and some people do three month once.
Now we are in April, means in 2015 quarter has passed. So it's time to check your progress towards your goal. Ask yourself few questions to check your progress.
Have you attained some of your goals?
Has it been a good year so far?
Are you on right path to achieve your goal?
Are you using your time rightly?
In my case, I am satisfied with one of my goal (achieved successfully) and also learned to improve it further more.
Where in another goal (blogging) I can say just OK, because I was busy with my daughters projects and exams, so I did not take enough effort to develop and to do postings. I know that I should not say reasons for my mistake. But sure I will compensate it this time.
In fact, there is still lot more to achieve this year and I have to implement what I have learnt and take it to next level.
Success or failure analysis
As your growth through the goal setting journey, You will have both success and failures. The important thing you have to remember is NEVER GIVE UP when you fail, instead you analysis the failure, it helps you to build on that knowledge and increase future goal setting process.
It is correspondingly vital to analyze your success too. As this analysis may give you a clue that what actually works for you.
So every single goal you accomplished, it is vital to review the goal and process. You will go from stronger and stronger if you do and in no time you will become a goal setting GURU.
If you achieved your goal or half the way to achieve, please share it in comment box about your achievements and steps followed by you to achieve success. It will be really helpful.
Related Articles: