Mahendra singh dhoni is a cool captain of Indian cricket team and he widely known as one of the greatest finishers in limited overs match. He is well known for his hits six in the last ball of the innings.
MSD is not only good bats man and wicket keeper but also a good leader. As we know that in many critical situations, he single handedly won the match for India. MSD is a good example for leadership. A good team leader sets an example with his own performance and that's what he always used to do.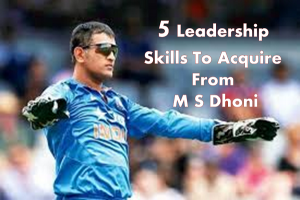 Leadership Skills
Try to stay cool in bad situations:
"Never let a bad situation bring out the worst in you. Choose to stay positive and be the best person that God created you to be! "
Many people lose their calmness in bad situation or when they work under pressure and this result in lack of focus, doing lot of mistakes in the work and making situation even more critical. A good leader should learn remain calm even in bad circumstances. Have you ever seen MSD yelling on other cricketers? So learn to be cool.
Respect you competitors:
You take any field sports, business, politics etc. you will have competitors. To make any business flourish in the market, it is really important to keep a good relationship with everyone. So, always respect your opponents and maintain good relationship with them.
Practice what you preach:
"Always practice what you preach, otherwise you be nothing more than hypocrite." – Quote
"Be do Say" is a powerful leadership quality. People never believe what you say, they only believe what you do. It should match what you say and do or else it will eventually flatter. So it's vital for good leader to practice what he expects from his subordinates. They listen only if you set yourself as a good example for them.
Show interest in work:
"The true secret of happiness lies in taking a genuine interest in all the details of daily life."
When you are running a firm or leading a team, it is very important to work in the interest of the entire team or the firm. Learn to think…
Treat success and failure alike:
Have you ever seen MSD jumping with excitement or disheartened after conquest.
Success or failure, learn to behave in the same manner.