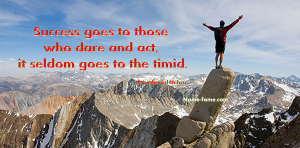 Are you dare to succeed?
You will, if you are keen and have a strong desire to thrive. To achieve your goal, you need to have passion and burning desire on your goal which helps to drive you towards your goal.
Ralph Charell says, "Nobody can succeed beyond his or her wildest expectations unless he or she begins with some wild expectations". 
Fix your goal it may be in business, Family, children, happiness are some other goals of which individuals pursue.  Which you are striving for?
SEE ALSO: Genuine way to success
If you have passion to succeed, just test it.  If your passion shakes at the 1st sign of trouble then your passion is not where it wants to be.  A journey towards success is not an easiest one, many difficulties may appear but problems are just passing clouds and it is test given by God, but these problems are stepping stones for success.
A sturdy passion will give guts, and guts will take you through any storms, difficulties in life, the negative criticism, and discouraging words of others saying you that you can't.
SEE ALSO: Achieving milestone
Dream about your goals: (Important)
You won't achieve anything only by sitting and dreaming about your goals, do the next step.
First you need to be precise about your dream – turn your dream in to burning desire – and turn your desire in to goal. Make a plan and write your goals it gives you a clear understanding set short term goals, take day-to-day action and check your progress frequently. Don't suspect yourself just be confident and focus on your dream and keep clearness. Don't fear to achieve your goal because it is not actual, it was just created by your mind. Keep moving forward till you achieve your goal.
SEE ALSO: Power of written goals
Success is our birthright. Each of us is born in to genius.  Don't fear to achieve. Don't afraid of others and their thinking and comments. Focus on your goal and do whatever need to meet your goal. If some problem pulls you down and make you depressed just run, increase your speed to reach your goal. If someone say "no" it is difficult to achieve your goal, just ignore it. There will be many 'no's until you finally get a "yes".
Related Articles: