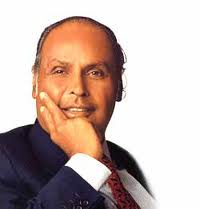 Dhirubhai Ambani was born on 28th  December 1932. He was an Indian Business magnate and entrepreneur and he is the founder of reliance industries, petrol chemicals, communications, textiles conglomerate, and power.
Dhirubhai was the second son of Hirachand Ambani and Jamnaben. His father was village school teacher with less income. Dhirubhai was very intelligent and precautious.  Once Jamnaben asked Ramnikbhai and Dhirubhai to help his father by earning money Dhirubhai crossly replied, why you always screaming for money? Surely, one day I will make tons of money (and in future he did as he said).
He hates going to school and padding school lesson. He always likes to work which used his physical ability to the maximum. On weekends, he started setting up potato or onion fries stall at village, made extra money and he gave it to his mother.
One day, due to ill health Dirubhai father is not able to work anymore. So, he called Dirubhai and asked him to go to job to support the family. By seeing his anxious eyes of his sick father Dhirubhai decided to go to job. But really he wanted to study for a bachelor's degree though he sacrificed his bachelor's degree and left to Aden where his brother Ramnikbhai Ambani has arranged job for him. While he was boarding the  ship  to Aden Dhirubhai came to know from Guajarati newspaper that he had passed his matriculation in second division.
SEE ALSO:   How to achieve success
After reaching Aden, on very first day Dirubhai joined in office for the clerk's job in A. Besse & Co.  It was world's second busiest trading and oil bunkering port. It was betrothed in virtually every branch of trading business. First he worked in commodities section. Later he was relocated to the section that handled petroleum products for the oil giant. He learnt every nook and corners of business.
During lunch time he used to go to Aden market's to learn about business tactics. Aden market is a place where traders from many different countries bought and sold goods worth millions of pound authentic, global currency during the day. Conjecture in manufactured goods and commodities were common all over the Aden bazars.
Dhirubhai felt tempted to speculate but he had no money and was very fresh for such trading. To learn the wiles of trade he offered to work for free for a Gujarati trading irm where he learnt to book keeping, accounting, dealing with banks, insurance companies, preparing shipping papers and accounts. All these skills helped him when he started his own business.
After he believed he had erudite the rudimentary of commodities trading. Dhirubhai instigated speculating in high seas purchase and sales of all types of goods. But he did not have sufficient money for such conjectural trading. So he borrowed as much as he can from his friends and small Aden shopkeepers but nobody is ready to offer him. There he used a business mantra "Profit we share and all loss will be mine" and it became his motto. In lunch break and subsequently office hours he was constantly in the local bazaar, trading in one thing or the other.
SEE ALSO: Genuine way to success
In 1958 he moved to Mumbai to start his own business in spices slowly he stretched himself to textiles he started getting profit. Dhirubai founded  Reliance  in 1958. Dhirubhai Ambani revolutionized capital markets. He created an 'equity cult' in the Indian capital market. From zilch, Dhirubhai bred billions of rupees in prosperity for those who laid their belief in his companies. In 1992 Reliance became the 1st Indian company for elevating money in Global markets. Reliance furthermore became the 1st Indian company to feature in Forbes 500 list. Federation of Indian Chambers of Commerce and Industry (FICCI) has named Dhirubhai Ambani as an Indian Entrepreneur of the 20th century.
Dhirubhai Ambani expired on 6th July 2002 at Mumbai.
Read Dhirubhai Ambani Quotes here .
Follow me on Twitter