Industry can push up weakness to excellence. Look at the history of the world. All those who have achieved something great have done so by means of hardwork. They were wholly absorbed in their work. Such work gave them limitless joy and contentment. Filled them with energy and self-confidence .
Thomas Alva Edison, the special genious with lot of inventions to his credit. He said, "Inventions are not accidents, they are rewards of unceasing effort". So genius is one-percent inspiration and ninety-nine percent perspiration.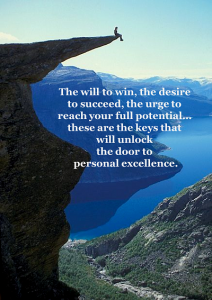 Genuine success and unending industry are inseparable companions. In spite of hard work, one may fail. But without sincere effort no one can attain excellence. We should remember that we could get valuable objects only by means of continuous effort.
Read Also: Motivate yourself positively
It is only in the dictionary that 'success' comes before 'effort'. In order to succeed, take up one idea. Make that one idea your life; think of it; live on that idea. Let the brain, muscles, nerves, every part of your body be full of that idea, and leave every other idea alone. This is the way to success, and this is the way great spiritual giants are produced. No individual is identical to other. Hence, in order to prove ourselves we need not all be eminent scientists. Their zest for work must inspire us to attain excellence in our own fields. Imitation does not make you great; inspiration can be deprived from a great person. You are you. You can't be the other.
Indeed, we are all different from one another in walk and speech, in interest and aptitude, in skills and abilities. We do not need to intimate anybody. With strong determination, we can preserve our high spirits and enthusiasm, pursue our goal with courage and confidence, can overcome the unnerving sense of defeatism and finally, we can drive away our submissiveness, our servitude, and our inferiority complex.
See Also: Self Confidence
Whatever may be the field – religion, arts, literature, agriculture or science – the highest achievement is possible only by means of incessant effort. All those who have enriched our wealth of knowledge are people who exemplify the importance and glory of hardwork. The intensity of their aspiration, the enthusiasm in their work, the concentration of their mind, the height of their success – are these not the sources of inspiration for the people working in any field? We have to take them as our models, we must work with joy and enthusiasm, move on with courage and fervor.
Related Articles: